HELP OZHARVEST FIGHT HUNGER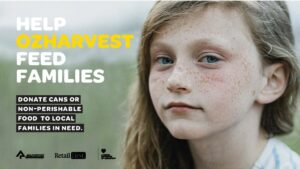 OzHarvest is Australia's leading food rescue organisation, collecting quality excess food from commercial outlets and delivering it directly to more than 1300 charities supporting people in need across the country.
Founded in 2004 by Ronni Kahn AO, after noticing the huge volume of good food going to waste from the hospitality industry, she decided there had to be a better way.  Starting in Sydney with one van – the first of many donations from Goodman+ Foundation – she delivered 4,000 meals in the first month.
OzHarvest now operates nationally, rescuing over 180 tonnes of food each week
Retail First has teamed up with All Purpose Transport to raise food donations to assist with OzHarvest's increased demand for assistance over the Christmas season. We are encouraging customers to donate a couple of cans, a bag of pasta or a box of cereal – or any non-perishable food items that could help a family in need.
HOW CAN YOU HELP?
Now until Christmas, Logan Central Plaza will have a donation box located outside of Coles for your donations.
All Purpose Transport will regularly collect and deliver these donations to OzHarvest who will distribute them to charity and welfare organisations in Queensland to those who need it the most.
Find out more about OzHarvest here: Website | Facebook | Instagram