FIGHT HUNGER IN QLD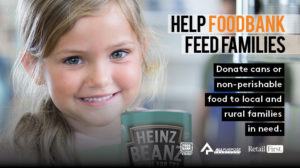 Did you know that more than four million Aussies have experienced food insecurity in the last year!
Every week in Queensland over 100,000 people rely on food aid from Foodbank Queensland, with a third of those being children.  Around Australia about 40% of the food distributed via Foodbank is delivered to those in need in rural and regional areas, and the demand from these areas increasing due to the ongoing effects of the drought felt here in Queensland.
Retail First has teamed up with All Purpose Transport to raise 40 tonnes of food donations to assist with Foodbank's increased demand for assistance over the Christmas season. We are encouraging customers to donate a couple of cans, a bag of pasta or a box of cereal – or any non-perishable food items that could help a family in need.
HOW CAN YOU HELP?
From 1st October until Christmas, Logan Central Plaza will have a donation box located outside of Coles for your donations.
All Purpose Transport will regularly collect and deliver these donations and Foodbank will distribute them to more than 300 charity and welfare organisations in Queensland to those who need it the most.
If you would like to know more download Foodbank Hunger Report 2018.